Welcome to
Cape Coral Metal Roofing Elite Contracting Group
Are you ready for some awesome metal roofing? Well, you come to the best place. We're the Cape Coral Metal Roofing Elite Contracting Group– one of the leading metal roofing contractors in Cape Coral, FL.
Can you imagine a building without a top cover, i.e., a roof? No, right? It is something you cannot live without. And if you live here in Cape Coral, you would already know important roofs are during heavy rains, super-hot summers, hurricanes, and storms.
If you don't have something solid and durable covering your building, it can be daunting. And what could be better than a metal roof? Times of clay tiles, asphalt shingles, and stone roofs have now passed. People ask for something which is durable, beautiful, and, most importantly, lasts for long. Are you curious to know more about metal roofs? If so, stay tuned and read in full.
Busting some common Metal Roofing myths
"Metal roofs are deafening when it rains," "metal roofs get too hot during summers," "metal roofs are too heavy," "metal roofs attract lightning," "metal roofs are too costly." We know, we know, you might hear that frequently. As a matter of fact, we hear that too.
Fortunately, all of them are myths. And we're here to shatter them for you and help you make an informed decision.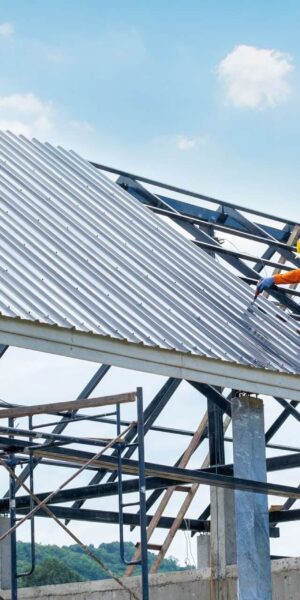 Why are Metal Roofs so much in trend?
Do you wonder why metal roofs are so much in trend? Well, there are numerous common reasons behind it. Floridians exactly know how harsh mother nature can be when it comes to rain, hail, storms, strong winds, scorching heat, and floods.
It's the reason why a strong roof that protects them from all of the above elements is necessary. And not only Protection, Floridians expect style too. And there's nothing bad in that. Fortunately, metal roofs deliver a unique style too.
Here are some common reasons why people here in Cape Coral, Fl prefer metal roofing systems: –
Durable & Stylish: Metal roofing systems bring along dual benefits, i.e., strength and style. If you love those old asphalt shingles or clay tiles but need something sturdier, a metal roof is what will suffice. Some common examples like corrugated metal roofs and standing seam roofs bring along immense durability and are stylish enough to compliment your house.
Life Expectancy: Would you like to waste your time in frequent repairs or maintenance calls? Obviously not. We heard from you. Metal roofs like corrugated metal roofs come along with a life expectancy of over 50 years without much maintenance. It helps you stay stress-free for over five decades. Sounds like what you expect, right?
The Protection you need: Metal roofs are capable of delivering the protection people here in Cape Coral expect. A complex, rigid, and corrugated design adds to the strength and protects you from various factors.
Have you heard of Stone-Coated Metal Roofing?
It's one fine example of style and durability. It involves stone coated steel panels delivering a high-end style and Protection. In case you need more information, kindly refer to the services section.
Cost-Effective Nature: Most metal roofing variants are cost-effective. And those seem costly are affordable in the long run. So, you get more benefits and pay less money for the same.
What Services do we offer?
If you live in Cape Coral, FL, and seek a metal roofing contractor, you need not look further. Come to your home company at Cape Coral Metal Roofing Elite Contracting Group. With a huge range of services, we're more than happy to serve you.
Metal roof repair, installation, repair, and re-roofing are some of the services you can find at our company. We also present numerous types of roofing materials suited for different applications. In a nutshell, we're a complete package of roofing services.
Here is some brief explanation of our services for your reference: –
Regions we Serve
At Cape Coral Metal Roofing Elite Contracting Group, we always believe in reaching the maximum number of people and present them with affordable roofing solutions. And we've done well. Primarily serving the Cape Coral, FL region, our company now serves numerous other regions too.
Here are our service areas all over Florida: –
If you live somewhere in one of the above locations, congratulations, we serve you. Call us now and book your appointment for free!
Do you want some experts to inspect your roof before storms begin?
We heard from you. Our company provides a Free Roof Inspection to all the residents of Cape Coral, Fl. It is associated with numerous benefits that can relieve you of stress. If you want to avail of this service, you need to call our team and ask for the same. Our company will assign a professional for this inspection who will examine your roof. He'll help you find potential issues that can be pretty dangerous in times of storms.
With a free roof inspection, you can also come to know whether repairs will suffice or you need a new roof. So, delay no more and book our free inspection service before it's too late.
Metal roofing companies are not hard to find. However, finding the best can be much of a task. After all, it's about your property. And you will never want to hand it over to someone who lacks experience, or would you?
Choose what people here in Florida prefer. Come to us at Cape Coral Metal Roofing Elite Contracting Group, and enjoy benefits found nowhere else. People here in Cape Coral love us because of: –
Time to Replace Your Roof? We Can Help
Considering roofing replacement? When it comes to roofing projects, many homeowners rely on professionals to get the job done. At Cape Coral Metal Roofing Elite Contracting Group, our specialists stick to all the industry standards when installing metal roofing on both residential and commercial properties. Therefore, you can be sure of getting a sturdy roof on top of your house. As a result, you can get the best services from our company in the following fields;
What Locations do we Serve?
Cape Coral Metal Roofing Elite Contracting Group is a name you can trust and rely on. Our metal roofing services were limited in Cape Coral, FL when we started. But with time our company has expanded and is now serving over ten locations within Florida.
It shows how reliable we are. Here are some places within Florida, where you can access our world-class metal roofing services: –
Contact us now!
Have you decided yet? If not, its high time you do. With the above-listed benefits, no one would ever deny our services. Pick your phone and reach out now. We'll ensure you get a roof you expect.